I've always wanted to make garters. I never wanted to just use a piece of ribbon or string for fear of red welts and lack of circulation. And elastic in the 1860's, though period, never had too much of an appeal to me.
Merji
made a lovely pair of silk garters which I was looking at the other day, and when reading one of the comments (in Finnish....I couldn't understand it) there was a
link
, so I pasted it in my search bar and boom! Hey, look what I found! Aren't they so pretty?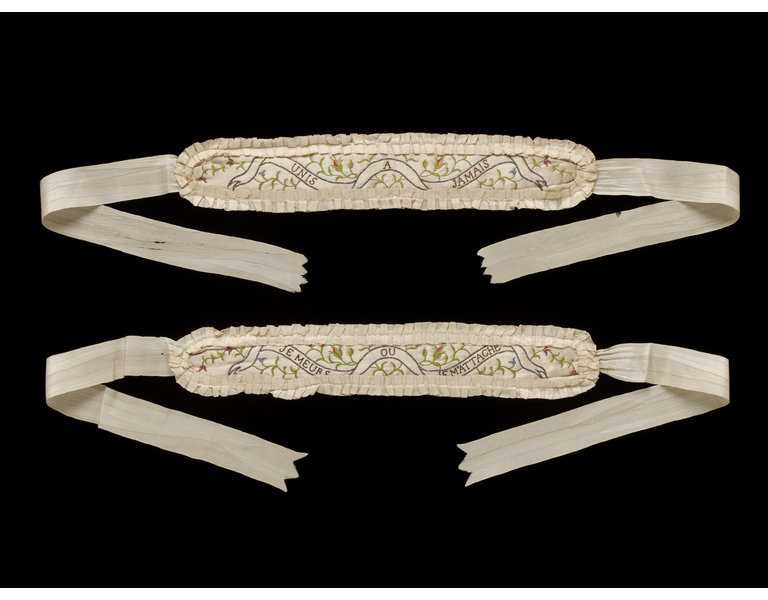 embroidered silk with silver thread and silk ribbons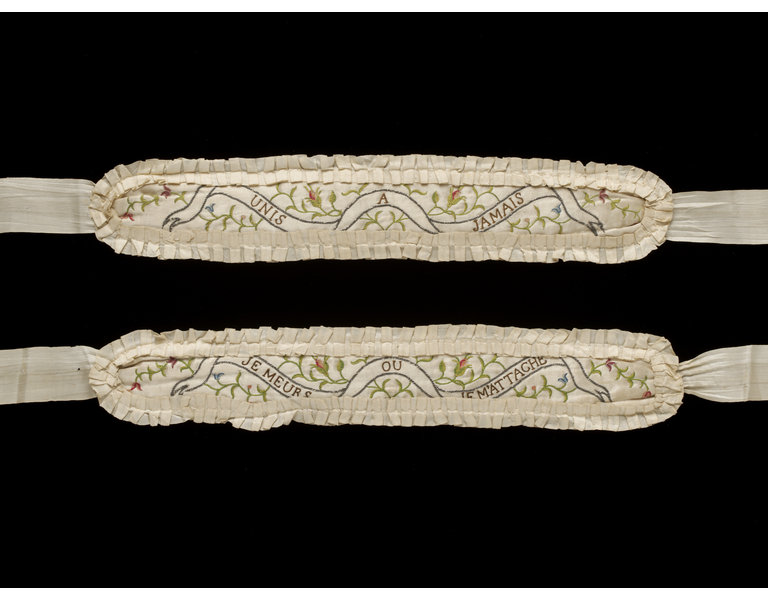 1780's ladies garters
These garters combined the tie method with something pretty and a little less painful looking. They are silk, with embroidery, silk ribbons, and pleated silk trim. They were made in the 1780's, but I figure 10 years difference to 1770's won't be too bad, and neither would wearing them for regency. Bascha and I both have the period correct knitted stockings that come way up your legs, and Bascha's stockings give her a headache by being rebellious and not staying there. Mine are getting pretty annoying as well, I am going to make me some knitted ones here in a sec. Caroline's are a mess, and she uses rubber bands (owwie) as garters. But back to the point, we needed garters.
Bascha just turned 18 this month, and so I decided to make these for her birthday :). Happy Birthday Bascha!!!
If you remember the silk trimmings on my
Straw Bonnet
, I had just enough left over from that project to make up a pair of garters. I don't know how these artifact garters were made. But here is how I made mine. And I tried to make them as similar as I could.
I wasn't sure about exact measurements, but I guessed that the decoration part probably went halfway around the leg...that part being the front. So I held the paper around my leg, a little above my knee. Yup, that worked.
I was also guessing how wide the garter should be. I went with around 1.5". Using these measurements, I drew out a shape like the original pair onto a scrap of fabric. I added seam allowances, and cut out 4 of these (two per garter).
my paper pattern/guide and the silk
I printed out the picture of the artifact garters and traced the design over onto a piece of paper. This was to get the hang of drawing it.
I drew over my pencil markings with sharpie so I could literally "trace" the design to my silk. I wanted to be able to see it through the fabric.
Then I ever so carefully transferred this onto my silk.
I took the embroidery floss and separated it so I was only using two strands. When I looked at the original embroidery it looked "thin". So that's what I tried to do.
squeals!! look at all that embroidery! I just love how embroidery looks, but man I hate doing it :P (also, if you are wondering why it's on a plate, I love eating garters of dinner...(I couldn't get the focus/light right))
I tried to analyze how the garters were sewn together. I couldn't really tell, but this was how I did it. I put the fabric right sides together and stitched around the edge leaving a small gap on one end. Then I in-sided them out. About the little hole on the end...it was where the ribbon ties were attaching anyway, so I just tucked the seam allowance in and sewed it down when attaching the ties.
For the ties-I did not have silk ribbon. I wanted silk ribbon, but I was scared that if I ordered it it wouldn't come in the same color as my silk. So I...used *whisper* polyester ribbons (which was also a lot easier), that matched. I pinked the edges how they did though, and then sealed it off with clear nail polish.
I sewed them down to the garters, re-enforcing where they attached with lots of back stitches. I did gather them slightly before attaching.
Tie attachment
Moving on to the trim. I cut out several little strips of silk on the bias so they wouldn't fray. Then I box pleated them to make the trim like pictured in the original. But-I just really didn't like the way it looked on the garters. It seemed to take away from the embroidery, add bulk, and just not flow prettily. So I opted out on that step :(. I guess now I can't really say I replicated the original garters can I? But at least I tried.
mama modeling for me :D Bascha's legs aren't available at the moment :P
the ribbons are very long right now, I wasn't sure how long to make them
I had meant to use navy instead of that vibrant blue for the ribbon embroidery...but it didn't work out. I can't remember why though
One of them says "UNIS A JAMAIS" which is supposed to mean "United forever" The other one says "JE MEURS OU JE M'ATTACHE" which the site says means "I die where I cling" or "I must love or I die". If I had thought about it, I would have put something lovely and poetic, about love and friendship....but I didn't think about it until it was too late. Sorry Bascha!!!!
Wee! Aren't they so cute? What do you think of these? Do you wear garters? Have you ever made some?
~Theresa