Well I started a Regency day dress that I finished just in time for 4th of July. I think it looks really patriotic. :) I bought this material from Hancock Fabrics on sale, seven yards for $21!! I thought it was a deal. :) Although my mom had to convince me to buy it over a pretty orange-peachish material. In the end she got the orange-peach material for a Regency dress for herself (another blog post coming) and I absolutely love my new Regency dress!
I used Simplicity pattern 4055 dress A, top only. For the skirt, I just used the whole 45'' width and cut it to my height.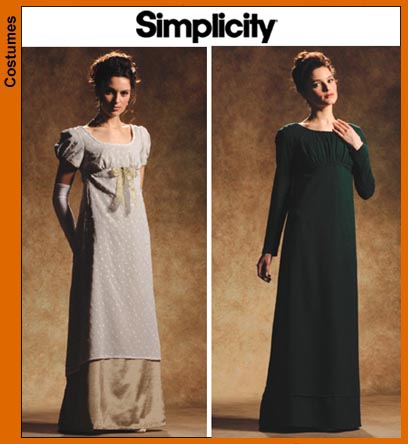 Well I'll just jump right into this. I cut out my material and started sewing. First things first I attached the side back to back.
Now I truly did try to a line my stripes but as you can see they didn't turn out so great. :P
Up next, shoulder seams.
My stripes are a little more in line.
Side seam
I then repeated on the other side and to the lining. Now on all my dresses I have been putting in a waist-band, I just find it more fitting. For the pattern for the waist-band I used Period Impressions 460.
Here is my waist-band on both my lining and top.
Bodice front wright side out.
I then tackled the sleeves! I had this vision when I was starting the dress to make a 3D puff sleeve. So I just went with it and I think they turned out pretty good! :) I first had to gather the sleeve at the top and bottom to fit the arm hole and cuff. I cut out four strips 9 inches long and four strips 7 inches long, 1 inch wide (width of one stripe) with some excess for hem.
My 9 inch stripe.
Sew each strip on top of same colored stripe on top and bottom.
Attaching cuff to sleeve.
Hand turning cuff to inside of sleeve.
The finished sleeve!!
These beautiful blue-gray shell buttons for closure in the back.
Silk piping I hand sewed on my sleeve cuff, arm whole, waist-band, and hem.
The finished product!!
Will add more photos to the blog later. I had a lot of fun making this dress and sewing on the piping! <3
~Bascha